The 2nd FIDE World Junior Chess Championship for the Disabled comes to a successful conclusion
By Dora L Martinez, FIDE Press Officer
Contact: dora@lensethics.org
Cherry Hill, New Jersey (August 14, 2018) — Ilia Lipilin (Russia) is the World Champion for the FIDE World Junior Chess Championship for the Disabled.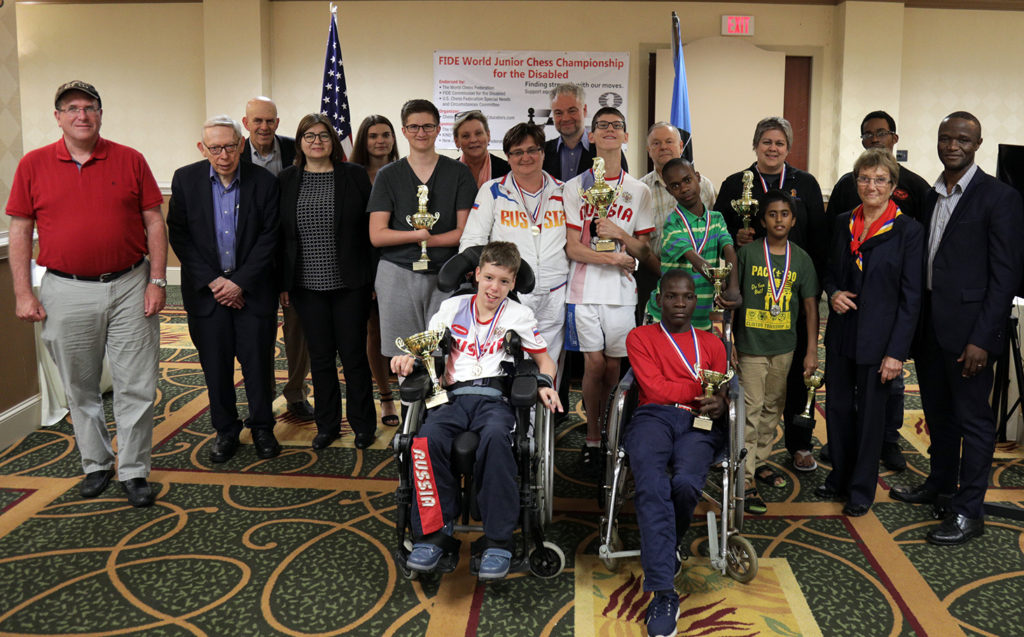 Dr. Leroy Dubeck awarded the 1st Place Cup to Ilia Lipilin on behalf of The U.S. Chess Trust, the major sponsor of this event.
Maksim Petrov (Russia) took 2nd Place helping secure the Gold Medal for Team Russia. The official team coach for Russia, Svetlana Gerasimova, accepted the prize for the team with a heartfelt speech and special thanks to the Chief Organizer, Beatriz Marinello and Chairman of the FIDE Commission for the Disabled, GM Thomas Luther.
Griffin McConnell (USA) earned 3rd Place in the event. Griffin is a top player in the United States; he helped secure the Team Silver Medals for USA. 
World Junior Chess Championship for the Disabled – Final Standings:
LIPILIN, Ilia (RUS), 7.0
PETROV, Maksim (RUS), 5.5
MCCONNELL, Griffin (USA), 5.0
ZIMMER, Johannes Raphael (GER), 4.0
MWESIGYE, John Denis (UGA), 2.5
MBAZIIRA, Wasswa Sharif (UGA), 2.5
SHANKAR, Pranav (USA), 1.5
EGGLESTON, Robert (USA), 0.0
World Junior Chess Championship for the Disabled – Team Results:
Russia
USA
Uganda
"When the FIDE World Junior Chess Championship for the Disabled was created, no one was willing to organize the event and it sat there for a long time." – GM Thomas Luther. That is, until IO Beatriz Marinello stepped up to the plate to take on the challenge. If anyone knows Beatriz – they know that it is just like her to break ground, to clear a path where there is none – and a path for players with disabilities was one she strongly believes in.
Chairperson, FIDE Commission for the Disabled, GM Thomas Luther goes on to say, "It was my feeling that this event would help lots of young players with disabilities. We want to bring chess to multi-sport events, such as the Olympics, Paralympics etc. Due to the good work of many people and FIDE, chess is already included in the Deaflympics and the Asian Para Games – two big international multi-sport events where chess is part of the games. We hope the FIDE World Junior Chess Championship for the Disabled will work as a bridge to other events with additional opportunities given to players."
"Players with disabilities face challenges in chess tournaments; this in turn may present a unique set of circumstances for organizers to take on. I know about this from the view of a player and an organizer. Right now, in the FIDE World Junior Chess Championship for the Disabled a player with autism participated. The special care from the arbiters and organizers made his participation a success story. We, at FIDE, are on a good way to improve on existing regulations. This is an ongoing process. Only a short time ago, FIDE regulations and guidelines were added to the FIDE handbook." GM Thomas Luther
Pranav Shankar (USA) has autism and is a young player who is dedicated to chess and has a strong desire to continue training, competing and improving. In this tournament Pranav felt comfortable enough to share an experience he had at another tournament.
We have to encourage players with disabilities to speak out about such challenges because it is with real world experience that we can make the most difference. This kind of feedback is far more valuable and helpful than hypothetical discussions in a board room because it comes directly from the affected players.
"I was on the verge of being forfeited because I was not being quiet." He goes on to say, that after his opponent complained to the director, he was separated from the other players. Pranav soon had difficulties because he didn't know when he could speak without fear of being forfeited. Despite the challenges, Pranav was happy to report that he still went on to win his game and elaborated with a lively game discussion and comments about the FIDE World Junior Chess Championship for the Disabled.   
"I like everything about this tournament. I liked the lessons, I liked the friends. It provides support, not just for me, but also to others. I like the normal tournaments also, but I like this tournament because this tournament is special. This tournament strives to help disabled people in many ways. In tournaments like this one, there will be supporters, but in others, we don't know." – Pranav
 "Ideally, I would like Pranav to sit at the same table with the other players. Going to other tournaments I get nervous because at every tournament there is always somebody that has complained. We are kind of at the mercy of the tournament directors. If the tournament director is good, he tries to accommodate us. Otherwise, sometimes he has to forfeit. In this event, I feel supported and understood." – Mrs. Shankar
The goal is not to create an event that will have players with disabilities participate in this event only, quite the opposite. Tournaments like this give players the opportunity to play once a year and be part of a community in which they feel comfortable enough to share their experiences.
Why do we need a chess tournament for people with disabilities?
"We have chess tournaments divided by rating, nationality, age, gender etc. So why not for players with disabilities? Here we have nice playing conditions that help players deal with the complexities of competition. We only have one of these events per year all over the world – leaving players with plenty of time to participate in all other events. In addition, this event helps us provide valuable feedback to improve current FIDE regulations as they may apply to all other chess events. In this way we aim to protect the player, not only in this tournament, but in all of the other events they may wish to participate in." GM Thomas Luther
As this event wrapped up, IO Beatriz Marinello and Chairperson of the FIDE Disabled Commission, GM Thomas Luther were already discussing and planning for next year's event.
A very special thanks to our main sponsor, The U.S. Chess Trust, for their support and generosity. We would also like to thank the New Jersey Chess Federation and KIND for their generous contribution and continued support.
"Organizing this event takes a lot of hard work, perseverance, vision and creativity. The main focus must be the players. We have already secured the venue for next year; it will be held at the Crowne Plaza Hotel in Cherry Hill, New Jersey once again. We look forward to seeing the players and hope that each country will bring a bigger team. Players and coaches – get ready!" IO WIM Beatriz Marinello
Learn more about the event and players at the official website: www.WorldJuniorChess.org
Photos and content copyright: Dora L Martinez, dora@lensethics.org